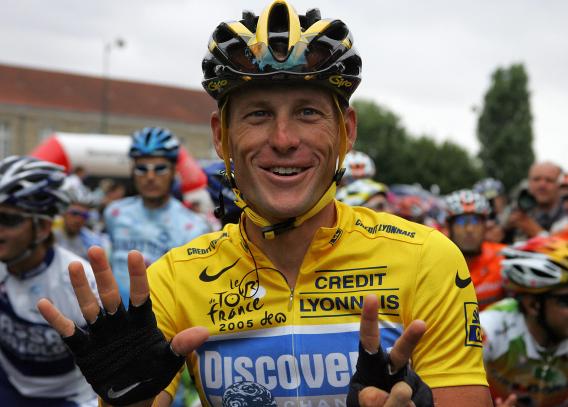 Liar. Cheat. Discredit to cycling. Doper. Drug addict. LiveWrong. DopeStrong. Dishonest. Duper. Fake. Failure. Just some of the words used over the past week to describe Lance Armstrong.
As you will now be aware, the United States Anti-Doping Agency, or USADA, have charged Armstrong with using and taking performance-enhancing drugs throughout his career, dating back to 1998. Since that point in time, Armstrong has become a hero for so many - winning an unprecedented seven Tour de France titles having overcome severe cancer. His charity fundraising, his effort and his sheer ability made him someone people looked up to - most of all, many aspiring athletes and kids of many ages, myself included.
However, he's now a fallen icon. Someone we assumed had put his heart and effort into working tirelessly to be the very best after such a bleak prognosis to his life did, in fact, choose to deceive us all, create a mystery around his 'champion' status, and cheat his way to becoming a household name.
Now I must stress, these allegations made by USADA, and subsequent charges, didn't go through without a few murmurs of trying to tarnish his name and status. There were a few that suggested USADA were creating a smear campaign purely to reinvigorate US cycling and slam the name synonymous with the sport. There were also some that suggested, and I hasten to add that this is a view held by very few and there seems to be no substance to the claims, that Armstrong had something on USADA. This is unconfirmed and doesn't seem to be true, but the fact people were making these assumptions gives you an idea into what they believed and thought.
Cycling, as a sport, is renowned for drugs and doping to improve performance. This year alone, there have been at least seventeen high-profile doping cases and charges, whilst in the last five years, there's been upwards of 150 doping cases and charges relating to performance-enhancing and recreational drug use. The drastic investment and time spent trying to clean up the sport seems to be working very slowly, but this is most definitely a step in the wrong direction.
Armstrong is most certainly the most high-profile figure to have been charged with doping in the history of cycling. However, in its current form, cycling is a poisoned sport - toxic to the core, with the handful of good guys left being tarred with the same brush. Team Sky General Manager, and Performance Director of British Cycling Dave Brailsford said the Armstrong allegations were 'shocking, jaw-dropping and very unpleasant', whilst Sir Chris Hoy called it a 'depressing day for cycling.'
Cycling, as a sport, isn't far from hitting a very, very low point. USADA's report stated that 'twenty of the twenty-one podium finishers in the Tour de France from 1999 through 2005 have been directly tied to likely doping', which is hardly a stat that endears you towards one of the most enduring sports on the planet. Armstrong's team of the time, the US Postal Service Pro Cycling Team, 'knew' when the drugs tests would be, and the testers would arrive. Johan Bruyneel, Directeur Sportif of the Postal Service Team, was accused by USADA to have advised the team as to when these testers would be taking blood, and also working alongside Dr Michele Ferrari, Team Doctor, to organise and schedule each rider's doping programme. Bruyneel was trusted within the cycling world, having overseen 13 Grand Tour wins in just 11 years. And despite all this, and the 'most sophisticated, professionalised and successful doping programme that sport has ever seen', according to the report, the team were never caught. Until now.
Supposedly, Armstrong's doping tests straight after his 1999 Tour de France victory, were completely clean. However, having been reassessed and retested, all six samples contained Erythropoietin, or as it is more commonly known, EPO, showing that Armstrong will have been on performance-enhancing drugs throughout the Tour. It's just the start of where the drug taking took him.
The report also shows that Armstrong tended to be the ringleader, helping other riders dope, and pull the team to the top. It was the classic rags-to-riches story - not only had Armstrong overcome cancer, got back on a bike and won seven consecutive Tour de France titles, but US Postal Team had gone from zero to hero in a matter of years. It was deemed a 'miracle', but that statement is far from the truth.
The sad thing is that other riders, and those who were riding as a career purely for the joy of getting on a bike, felt that they had no choice but to dope, purely to keep up with the competition. It ends up in a violent vicious circle, where riders take as much as they can to try and win as much as they can. The fact cycling's governing body, the Union Cycliste Internationale, or UCI, never managed to break the ring shows just how deep and dark a place cycling is currently.
This may be seen as D-Day for cycling - the hero of the sport falling from grace with a real bump. But every sport has had its own Armstrong - Ben Johnson, Marion Jones, Diego Maradona, Andre Agassi, the Oakland Raiders, Alex Rodriguez, Barry Bonds... The list is endless. But every sport has recovered - technology has evolved to a point where it's now more difficult than ever to get away with doping and cheating. The sports that have been affected have cleaned up, implicated new policies, introduced new bans, and stamped out drugs. All is not lost on two wheels.
Armstrong has lost nearly everything - his reputation, his titles, his hero status, his sponsorship deals, and up to a point, his charity. Having stepped down as Chairman of LiveStrong earlier today, he's effectively admitted his wrongdoing. Armstrong wants to take lie detector tests to prove his innocence, but the USADA report is so damning that the damage is already done. The 'secret circles' of cycling have been uncovered, and brought straight to the forefront of our back pages. And although there will be pain and shock running through the veins of everyone involved in cycling, it could be seen as a good thing.
Losing the eternal star of cycling from the top of the game to the bottom of the pile allows for a fresh start. New teams and new practices will emerge from this, and cycling will breathe a new life. Until then, the dark clouds hang over the sport, and Armstrong can hang his head.
You can come and say hello on Twitter - I'm @AdamMillsUK. You can also let me know your thoughts via the comments box below!