Well the bombshell has bee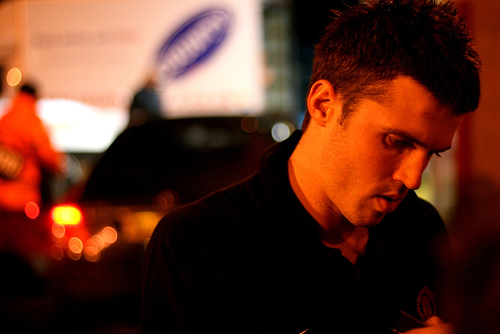 n dropped and the England Euro 2012 squad has been announced, for hours beforehand Twitter sat on tenterhooks with rumours and hearsay. Players were in, players were out, it was an internet hokey cokey. And what Roy has produced has drawn... well widespread criticism. I won't touch the Terry/Ferdinand issue, I've spoken at length about what I think of John Terry and won't do so again. However it's the news on Michael Carrick which has drawn up so much fuss and yet shocks me so little. For the midfield metronome, this is simply more of the same.
Michael Carrick has become a footballing enigma. Ask one fan and they'll tell you he's useless, a poor water carrier who passes side to side and back to defence. He adds nothing in attack and he's not a proper bruiser winning the ball either. However ask another and Michael Carrick is a heavenly gift to football, controlling the game, making a successful Manchester United side tick. The answer, as always, lies somewhere in the middle.
In some sections of footballing fandom Michael Carrick has become so underrated, they now over rate him to an unbelievable extent. Let's just get this out of the way; Michael Carrick is not England's saviour. Add him to the Euro 2012 squad and England still won't win. But they would be a better team with him, they'd have a stronger midfield and maybe they could go a bit further.
Carrick has a style not fitted to the traditional English game. He's not a bruiser, fighting and battling with every last drop of sweat to win the ball. Nor is he an all action attacking midfielder, he won't get the ball and drive forward cracking thirty yard shots at unsuspecting goalkeepers everywhere. He plays a more European role. He'll take the ball, he'll distribute it. Put the right players around him and he will make them tick. He can dictate play and he will help England do something they desperately fail to do every tournament, keep possession.
The English way is to keep moving, always forward; if you're not attacking you're nothing. Boot it, run it; it doesn't matter as long as it's going up the field. Carrick doesn't have a place in that style. And yet when Sweden and the Ukraine take control of the ball, pass rings around England and tire them out before striking, some fans still won't understand why.
It's a shame that Roy has overlooked him because there's a decent squad there with a few changes. In Joe Hart, Johnson, Terry, Lescott and Cole they have a decent if unspectacular defence. Yes there's no Richards or Rio but it's not criminally wrong. But a five man midfield with Carrick, Lampard, Parker, Gerrard and Young. That might work. Rooney up front with Welbeck and the OX on the bench to come in for the wing roles and Carroll as a last gasp option if they are forced long. Tell them to keep possession and that midfield has the ability to out play and create chances against 75% of the other teams in the Euros and that's the best chance England have.
But that midfield hinges on Carrick. Parker wins the balls, gives them to Carrick and he dictates those around him. Gareth Barry is a Premier League winner and has had a good season but at club level he is surrounded by Silva, Nasri, De Jong, Yaya Toure etc. Carrick has been having a great season with much more limited team resources.
The insult is added to injury when you see Carrick doesn't even make standby. Now there's a chance he told Roy Hodgson where to go. He'd rather take a holiday then sit by the phone waiting for players he's better than to get injured but that seems out of character for the man. Instead we get the head scratching, mind boggling decision to bring Jordan Henderson, a player filled with potential but on the back of an abysmal season for his team.
Despite all that though, I'm in no way surprised. This is Carrick's fate. He's not flashy; he's not having any affairs or racially abusing anyone. Even under Reliable Roy he's still not high profile enough. So sit back and lament because England's best central midfielder of the last season is off on his holidays, while Gerrard and Lampard are getting another shot at it. Joy.
---------------------------------------------------------------------------------------------------------------------------------------------
Coming up to the announcement of the squad, there was a surprising amount of support for Grant Holt. Fair play to the Norwich man but Carroll is the right choice. He's a better player. He's had a terrible season playing for a really screwed up club but he is a good footballer, not 35 million good but he didn't decide his price tag.
What I'm more shocked is that no fifth striker was called up. With Rooney out for two games that means Welbeck, Carroll and Defoe are the striking options for the first two games. Two raw, developing talents and a man who struggles to get into the Spurs team. Now I'm not going mad and saying bring back Michael Owen or anything but surely there's another option. Crouch, Graham, Holt, Hooper, Sturridge etc. all had good seasons, none get a look in. Should any of those be going?
So let me know what you think, what's Roy done right? What's he messed up? And can this squad make an impact at the Euros or is it a group stage knockout for England?
Let me know here or on Twitter @David_TPL