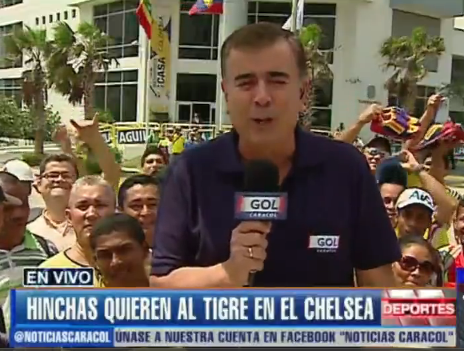 It's international break sop the time of year when footballers go back to their own country and end up wrapped in transfer talk. We've seen it this week to a great extent with Luis Suarez and Chelsea have seen their own Kevin De Bruyne finding himself at the centre of transfer speculation.
Falcao's situation is a bit different, he is already probably the most talked about player with regards to a big money summer move and the main club linked with him is Chelsea so we thought we'd go and see if there was anything in the Colombian press which gave encouragement or the opposite, and to see generally where they were assuming he'd be playing his football next season.
First things first, Falcao is going to be a dad. that's plastered all over the Colombian press and he gave the game away when he celebrated his goal against Bolivia with the old sucking the thumb routine. The Colombian press are quite excited by this and it will be the striker's first child.
But will it have a London twang to its accent?
The general consensus is that they think he's going to Chelsea, and that's shared by fans of the London club in the country. Yep, Chelsea has supporters in Colombia and they're very keen to make sure Falcao knows he's wanted.
They travelled to the game between Colombia and Bolivia in Barranquilla which is in the far north of Colombia, they were dressed in Chelsea kit, waving Chelsea flags and with placards telling Falcao to make the move, one had even taken a pencil drawing they'd done of the Colombian hit-man. This stuff is serious! 
They were interviewed by Gol Caracol and it's a pretty big deal. They sang Blue Is The Colour perfectly, along with other songs and some even had souvenirs from the Champions League final. Chelsea have a real presence in Colombia.
They went to the game and saw Colombia win 5-0, with Falcao getting a goal. Whether he saw them and it's helped sway his thinking is unknown, but for these fans having their country's best player play for their favourite team would be a dream come true, and they're going to do everything possible to make that happen.
Follow us on Twitter @Sport_Witness