Sunday 17th March 2013. A date for your diaries - the first race of the 2013 Formula One calendar, in Australia. Might seem a little strange already planning next season when this one hasn't even finished, but that date is gonna be a big one.
It could, conceivably, be the beginning of the end of Formula One as we know it. As I've written previously, big changes are a-coming with Formula One. New, smaller 1.6L turbo-charged engines come into force in 2014, changing the whole dynamic of the sport away from pure speed to being even more technical than it currently is. We'll see the second American GP added to the calendar, alongside the Russian GP, and a possible Thai GP, too. The sport is becoming bigger, even more commercialised, and we could see it floated on the Stock Exchange by this point, too. Either that or a Rupert Murdoch-owned sport, depending on what you believe...
2013 is the transition year - teams getting ready for the major changes. More money will be pumped into research and development to ensure cars are ready for the onslaught in 2014. Entrance fees for each team are hiked up substantially in 2013, to try and weed out those who are serious about the sport, and those who have it as a hobby - jumping from around $400,000 a season to nearly $4.5m a season. However, most importantly, we'll see driver changes like we've never seen before.
Already, the major forces in Formula One have confirmed their driver line ups. Ferrari are keeping Fernando Alonso and Felipe Massa for another season, whilst Red Bull also keep Sebastian Vettel and Mark Webber. The major move is Lewis Hamilton moving from McLaren to Mercedes, with McLaren replacing him with Sergio Perez, alongside Jenson Button. Hamilton, who replaces a now-retired Michael Schumacher, is joined by Nico Rosberg.
But then we get to the nitty-gritty, and the mid-table teams, all pushing their way to the top. Kimi Raikkonen has signed on with Lotus-Renault for another season, and Sauber have signed up Nico Hulkenberg to replace Perez. Toro Rosso are also keeping their two young drivers, Daniel Ricciardo and Jean-Eric Vergne. And that's all that we've seen confirmed - that's the lot. Which means there are still seats up for grabs, and teams looking for drivers to take them into 2014 as a force to be reckoned with.
Force India have a completely empty roster, and with lots of financial issues ongoing at the team, could see names disappear and the team fall apart. Hulkenberg has already left to join Sauber, and Paul di Resta has stated previously the team 'wouldn't stand in his way' if another team came along. Rumour has it he may be off to join Kimi Raikkonen at Lotus-Renault.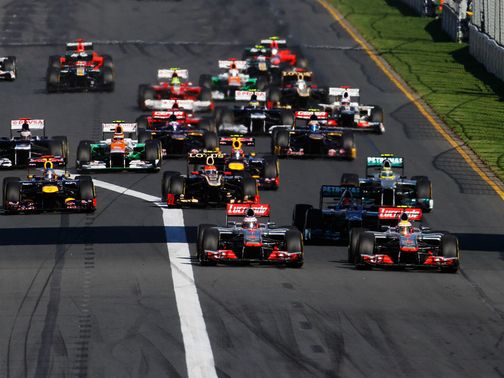 If the di Resta rumour is true, it leaves Romain Grosjean without a drive, and his notoriety of kamikaze driving on the first turn could leave him nervous. It could very well be a straight swap, with him going to Force India. Another rumoured to be heading to Force India is Jamie Alguersuari, who had to take a year out this season after not being offered a drive.
Williams have had a turnaround in fortunes this season, with Pastor Maldonado winning Williams' their first race in Spain since Brazil in 2004. The team have won 73 points so far this season, with Maldonado taking 43 of those. The team look stable, and the likelihood is they will stick with Maldonado and Bruno Senna for 2013. 
Sauber may take a look around, after Kamui Kobayashi stated that he was finding it 'difficult' to secure a drive with the Swiss team next season. Esteban Gutierrez may come in to make his F1 debut next season alongside Hulkenberg, leaving Kobayashi without a drive.
We then move down another level, towards the lower-end teams. Marussia have confirmed Timo Glock for a further season, whilst HRT have confirmed Pedro de la Rosa. However, both teams still have a driver spot left, and Caterham haven't confirmed anyone. HRT will more than likely have to look to Narain Karthikeyan, seeing as no-one else currently wants to take the poison chalice, whilst Marussia also look likely to keep their driver line-up, and sign up Charles Pic for another season.
Caterham may also make a move for Pic, but this could all depend on Heikki Kovalainen, and whether or not the Sauber rumours are true. It seems very unlikely that they'll take on Vitaly Petrov for next season, after a really lacklustre season this year, which may mean they'll look elsewhere. Tonio Liuzzi may come on board having spent a year as a reserve driver for HRT, but it really does depend on how much money team owner Tony Fernandes decides to pump in to the team, seeing as he's also got a sinking ship in the Premier League in the shape of QPR...
If that all seems confusing (trust me, it is...), here's a wonderfully simple list of what could very well happen to the grid...
Red Bull Racing - Sebastian Vettel and Mark Webber (confirmed - same as 2012)
Scuderia Ferrari - Fernando Alonso and Felipe Massa (confirmed - same as 2012)
McLaren-Mercedes - Jenson Button (confirmed - same as 2012) and Sergio Perez (confirmed - move from Sauber)
Lotus-Renault - Kimi Raikkonen (confirmed - same as 2012) and Paul di Resta (rumoured - move from Force India)
Mercedes - Lewis Hamilton (confirmed - move from McLaren) and Nico Rosberg (confirmed - same as 2012)
Sauber - Nico Hulkenberg (confirmed - move from Force India) and Esteban Gutierrez (rumoured - current Sauber reserve) OR Kamui Kobayashi (rumoured - same as 2012) OR Heikki Kovalainen (rumoured - move from Caterham)
Force India - Paul di Resta (rumoured - same as 2012) OR Romain Grosjean (rumoured - move from Lotus-Renault) OR Jaime Alguersuari (rumoured - no team in 2012)
Williams - Pastor Maldonado and Bruno Senna (rumoured - same as 2012)
Toro Rosso - Daniel Ricciardo and Jean-Eric Vergne (confirmed - same as 2012)

Marrusia - Timo Glock (confirmed - same as 2012) and Charles Pic (rumoured - same as 2012)
Caterham - Heikki Kovalianen (rumoured - same as 2012) OR Charles Pic (rumoured - move from Marussia) OR Tonio Liuzzi (rumoured - current HRT reserve)
HRT - Pedro de la Rosa (confirmed - same as 2012) and Narain Karthikeyan (rumoured - same as 2012)
Phew.
All in all, we're in for a really interesting, hectic off-season. The grid could look very different to how we've seen it already. With all the changes in 2014, we could see plenty of drivers decide to take retirement at the end of this season, or move away from the sport altogether, so this is just the start...
You can come and say hello on Twitter - I'm @AdamMillsUK. You can also let me know your thoughts via the comments box below!