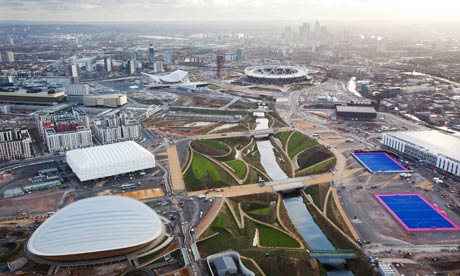 In a little over 48 hours, the last seven years' worth of toil, trouble and downright hard work will become a very surreal reality. After such hype and build-up, London 2012 will begin.
An estimated four billion people are expected to watch the Opening Ceremony on screens around the world - at home, on big screens, in parks, during street parties, at bars and pubs, and in any other way people can strain to get a good view on Danny Boyle's supposed-masterpiece.
So it's only fair that you're equipped with numbers, statistics and facts that will be sure to impress all those you're with over the duration of the next fortnight. This, ladies and gentlemen, is London 2012: Building by Numbers.
Now the term 'building', in the context of London 2012, can mean a number of things: building the infrastructure needed to host the Games; building a buzz around the Games to get people to buy tickets; building trust in the British public that this money is going to great causes; or building something that generations in the future can remain proud of.
The first obvious stat, however, is the cost. The £9.3bn budget is, to many, an extortionate cost to pay for two weeks of sport. If that was the case you'd be correct. But as we dispelled that little myth yesterday, there's plenty more you can read into with that figure.
Compare this to what we could arguably call the greatest sporting event Earth will ever see - Beijing 2008. According to state figures, the Games cost US$15bn - similar to that of Athens 2004. However, many have predicted that the actual cost was an unbelievable $40bn. Considering what's happened to the venues in Beijing, and the fact they've hardly seen the light of day, I'd say that's a bit of a bad purchase by China.
London 2012, if you take into account inflation, is actually the cheapest Olympic Games since Atlanta 1996, with all other Games since then pushing the £10bn mark. Not only that, but it's also the most sustainable Olympics ever held, ensuring that the venues and infrastructure built will be used for years to come.
The majority of venues are permanent, but some are in fact temporary, like the Basketball Arena, which will be shipped up to Glasgow post-Games for the 2014 Commonwealth Games. The large 6,000 seater stands that surround the BMX Circuit will all be moved elsewhere to allow for more space within the Olympic Park post-Games. The Water Polo Arena will also be taken down after the Games, and elements will be used elsewhere around the country.
Not only are there temporary venues, but there are temporary elements to permanent venues, as well. This was to ensure that the White Elephants of previous Games, notably Athens 2004, are never to be seen again. Venues have been expanded to host the hundreds of thousands of people visiting for the Olympic Games, but post-Games, they will downsize to accommodate smaller crowds, whilst remaining capable of holding world-class events.
The biggest venue that we will see this is, of course, the Olympic Stadium. Initially, plans involved building a one-tier concrete bowl, capable of holding 25,000 people, and built two temporary tiers above, taking capacity to 80,000. Post-Games, these temporary tiers would be removed, leaving a fantastic athletics facility. However, tenancy bids, as we all know, have changed that, and plans are for the stadium to become a 60,000 multi-sport venue, with a more permanent structure being built above the lower tier.
The other example of this is the stunning Aquatics Centre. Zaha Hadid designed the incredible central building, but to ensure large crowds could be accommodated, two large 'wings' have been added, taking capacity to 17,500. Post-Games, these wings will be removed, leaving a capacity of 2,500.
In terms of the actual sport, this has the potential to surpass the highest number of athletes the Olympics has ever seen. Beijing 2008 currently holds that record, at 10,942, but this could be beaten this time around. We will find out if it will tomorrow, upon the deadline for all teams to confirm their athletes.
It will be the first Games to feature women's boxing, and it'll be the first time we've seen mixed doubles in the tennis tournament since Paris 1924. There'll be 26 sports competed at London 2012 - a decrease of two since Beijing, as baseball and softball have been dropped as Olympic sports by the International Olympic Committee.
Tourist-wise, we're expecting to see a massive £2.3bn injection from tourism over the course of the next four weeks - a fifth of the total cost of the Games. This is a massive amount, bearing in mind what the knock-on effect of the Games could be over the coming decade.
Eight million tickets were made available for the Olympic Games, and LOCOG have estimated that just over 80% of these tickets will be bought. The revenue made from this has been digested within the Park itself, and has already helped make what we see a reality.
So there you have it - some 'down the pub' knowledge for the next couple of weeks. Only one question left: how many of us will actually enjoy the Games?
Well, there's me, so that's one, and you, so there's two....
You can come and say hello on Twitter - I'm @AdamMillsUK. You can also let me know your thoughts via the comments box below!