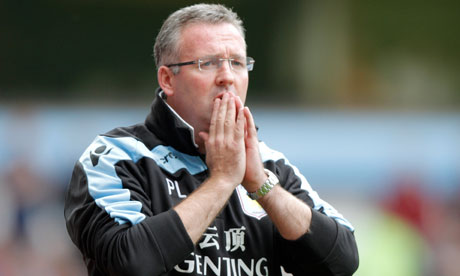 I've always had a bit of a soft spot for Aston Villa. Their style of play under Martin O'Neill reaped rewards, and with Randy Lerner bankrolling his charge up the table, Villa were on for Europe, on for big things, and the glory days looked to be returning.
Then O'Neill resigned on the eve of the new season, Gerard Houllier took the reigns, and led the club to a very comfortable, thoroughly deserved 9th position. Then he left. And Alex McLeish walked across Birmingham to join his arch rivals. A decision that alienated many fans, annoyed plenty, and baffled the entirety of the football world - why pick McLeish over other candidates? It was well known that they chased Roberto Martinez, before Dave Whelan gave everything away on Sky Sports News, and Martinez chose to stay. But the season began with McLeish at the helm, and the story began.
Last season saw Villa scrape away from the relegation spots very late on, taking just 38 points - two shy of the magic forty, and their lowest total since the Premier League began. It was a far cry from two seasons earlier - 64 points, 6th place, FA Cup semi-finals, League Cup runners-up, and qualifying for the Europa League again. McLeish was doomed already, and Lerner had to act.
McLeish was sacked at the end of the season, and Villa paid a big compensation deal to take Paul Lambert from Norwich City. A lot was expected from him and the club - a fresh start, with new players, new coaching staff, and a fresh page.
And come the end of 2012, and halfway through the season, Villa have dropped just short of the relegation zone. Preferred strikers Gabriel Agbonlahor and Christian Benteke have scored four goals between them since the start of November, and Villa have taken just twelve points since that point. A big victory against Liverpool in mid-December looked to have kickstarted it all again, but since that stage, they lost 8-0 to Chelsea, their biggest Premier League defeat, 4-0 to Tottenham, and today, lost 3-0 to Wigan. Fifteen goals with no reply. Twenty-five since the start of November. Lambert has an awful lot of thinking to do in this transfer window.
But is it just Lambert? We blamed McLeish last season for a shoddy season, but Lambert has picked it up and just flatlined it. The club haven't won two consecutive Premier League games since the final two games of the 2010/11 season - beating Arsenal 2-1, and Liverpool 1-0.
Between the two of them, Villa have fallen drastically towards the foot of the Premier League table. Darren Bent's multi-million pound signing won't have helped, with more money being pumped into transfer fees and wages than ever before. The loss of some very experienced defenders over the past two seasons have left the club looking to youth - Luke Young and Habib Beye last season, with Carlos Cuellar and James Collins this season.
Lambert has made major signings to replace those lost over the past few seasons - Downing, Young, Carew and Friedel to name but a few, with Ron Vlaar and Benteke expected to fill the void. They haven't.
January is a much-needed opportunity for Lambert to try and fix this mess - and quickly. Otherwise  he's looking at a P45 come May, and Villa may be leaving the Premier League for the first time since its inception.
You can come and say hello on Twitter - I'm @AdamMillsUK. You can also let me know your thoughts via the comments box below!