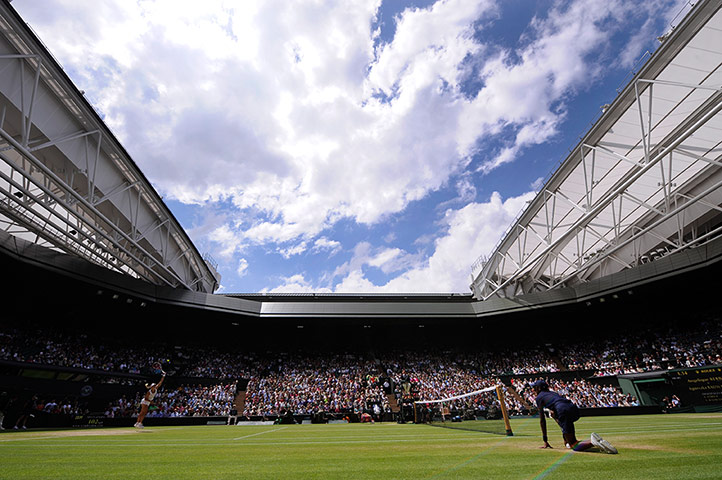 A British summer - plenty of rain, damp bank holidays, inevitable football heartache, one 'scorcher' weekend at the end of August, Pimms o'clock, cricket matches, and Wimbledon. 2012 will be no different.
In a summer where the eyes of the world will be upon our great nation, we've already had some sterling moments. The Queen's Diamond Jubilee, Roy Hodgson leading England nobly into the European Championships, and now the wonder of Wimbledon. We've not even reached Olympic fever yet.
But Wimbledon 2012 has taken on the fun that Britain has served up this year. It's a tournament that will live long in the memory, for plenty of reasons.
We've seen some quite phenomenal sporting moments. Heather Watson becoming the first British woman in a decade to reach the third round of the Ladie's Singles was something nobody expected. Rafael Nadal, second seed and two-time Wimbledon winner, was knocked out in the second round by little-known Lukas Rosol in a five-set late-night epic. Marin Cilic beat Sam Querrey 7-6 (8-6) 6-4 6-7 (2-7) 6-7 (3-7) 17-15 in the second-longest match Wimbledon has ever seen, at five hours and 31 minutes. Yaroslava Shvedova became the first player ever to have won a golden set in a Grand Slam tournament - winning 24 straight points to win 6-0. We also saw the latest Wimbledon finish ever, with play ending at 11:02pm between Andy Murray and Marcos Baghdatis, thanks to the stunning roof on Centre Court. And that was just the first week.
The second week was even more incredible. Top seed Maria Sharapova was knocked out in straight sets by Grand Slam giant-killer Sabine Lisicki. 2011 Wimbledon winner Petra Kvitova was knocked out in the quarter finals by powerhouse Serena Williams. Williams then preceded to knock out second seed Victoria Azarenka to reach the Wimbledon final. And then we began to dream - Roger Federer knocked out top seed Novak Djokovic in the semi-finals to try and win a record-equalling seventh SW19 title, whilst Andy Murray beat Jo-Wilfried Tsonga to reach his first Wimbledon final, and become the first Brit since 1938 to reach the Gentlemen's Singles Final. And whilst all this was going on, there was British interest elsewhere, too.
Finals weekend will be one that we remember fondly for years. It began with the traditional Ladie's Singles final, between sixth seed Serena Williams and third seed, and potential world number one (if she won), Agnieszka Radwanska. Serena won the match in three sets - 6-1 5-7 6-2. A defining monent was the penultimate game of the match, in which Serena served a golden game - four consecutive aces that could be used as a master-class in how to teach grassroots tennis. Williams won her fifth Wimbledon title, equalling sister Venus' five, and leaving her tied third in SW19 Open Era victories, behind Martina Navratilova (9) and Steffi Graf (7). It's also the 55th victory by an American in 126 years at Wimbledon, and the 27th of the Open Era.
The Williams sisters later went on to win the Ladie's Doubles, too, giving them their 36th Grand Slam title between them, alongside the three Olympic medals they already have. But it was the Gentlemen's Doubles final that will be remembered by many, thanks to the five-set victory by Brit Jonathan Marray and Dane Frederik Nielsen, whom were a wildcard pairing who had to submit an application to play in the tournament. Marray was the first Briton to win in the Gents Doubles final since 1936 - which, ironically, was the last time a British male won in the Singles - Fred Perry.
The weight of the nation was on Andy Murray's shoulders as he took on Roger Federer in the Gentlemen's Singles final. All the omens were there for him to win - the last time a Pole was in the Women's Singles final was in 1936; the last time a Brit won the Men's Doubles was in 1936; the last time a Briton won a Wimbledon Singles crown was a Jubilee year; the last time a Briton won the Men's Singles was... 1936. It all looked so hopeful.
Murray took the first set - his first in a Grand Slam final, but as Federer got into his stride, and the rain break finally arrived, the roof changed the match. Federer won both the second and third sets, displaying what can only be described as unbeatable tennis. The Swiss played like the number one player in the world, and his shot choices and unbelievable skill and power put him a cut above the rest. The fourth set was an absolute stunning lesson in how to win a Grand Slam, with Federer taking the match 4-6 7-5 6-3 6-4.
Federer's skill and know-how from his 25 Grand Slam finals, and his eighth at Wimbledon in just ten years outshone that of Murray, who was playing just his fourth, and first at SW19. That said, however, Murray did himself proud, putting in a display that we can all be very proud of, and his heartfelt interview after the match endeared him to a lot of people.
It was Federer's seventh victory at Wimbledon, equalling Pete Sampras' Open Era record, and also William Renshaw's record, despite his being from the Amateur Era. It was also his 17th Grand Slam victory, which all began with a victory in the 2003 Wimbledon final. He'll also now regain the World No. 1 spot, and will now have had the accolade for a minimum of 287 weeks, equalling the current record of Sampras.
The final match to be played at the 2012 Wimbledon Championships was the Mixed Doubles final. Doubles stalwart Leander Paes was joined by new partner Elena Vesnina, who were taking on the might of Bob Bryan and Lisa Raymond. The American pairing won the first set, and their 150+ Doubles titles' worth of experience began to really turn the screw. However, despite Paes and Vesnina suffering on their first serves, they won the second set 7-5. The rain then appeared again with a vengeance, pounding the Centre Court roof and echoing around the arena. Bryan and Raymond managed to block it out, and became the new champions, winning the third and final set 6-4.
We're now less than three weeks away from the biggest sporting even the world has ever seen. If we can put on a Games that has the same level of skill, excitement, fun and exhilaration as Wimbledon, we're in for one hell of an Olympics.
You can come and say hello on Twitter - I'm @AdamMillsUK. You can also let me know your thoughts via the comments box below!