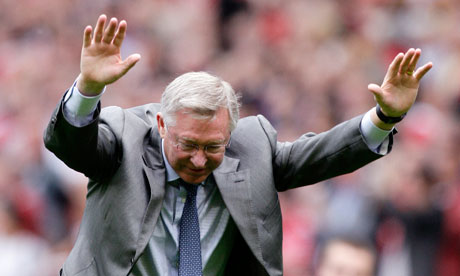 To begin with, I apologise profusely - this is going to be quite a personal, thought-felt post, that I hope can help become part of a much bigger story.

As an 18 year-old Man United fan, I've never know any different than the current sign on the manager's door - Alex Ferguson has been, and currently is, the only United boss I've ever known. The only difference has been the addition of a 'Sir' on the front of his name.

This weekend sees him celebrate 25 years at the helm of the United team. His guidance, genius and his ability to change games with shrewd tactics and manoeuvres has led to him winning near-on everything, and becoming the longest-serving manager in British football.

37 trophies in those 25 years - a truly incredible fact, especially considering his United career has outlived over 1,000 managers in English football. He has won 836 of the 1,409 games since November 1986, won the Champions League twice in exceptional circumstances, led the club to an unprecedented Treble, and won the Premier League 12 times out of 19 instances. The man is a genius.

There are some who will completely disagree with me, and that's fine by me, but I genuinely believe Sir Alex Ferguson is the greatest manager of all time. Yes, there is the likes of Bill Shankly, Sir Matt Busby, Bob Paisley and Brian Clough to consider, but Fergie trumps them all. He really does.

All these managers have been in different situations, but I don't believe any of them have done what Sir Alex has. We are currently in the midst of his sixth regeneration of a squad still capable of winning countless trophies, and his combination of skill and experience with youth, energy and pace is lethal to even the best of teams. The sheer destruction these teams have unleashed on their opposition is down to his fiery Scottish personality, and he builds a team around a core of players, as opposed to just the one great player.

His 1992 Premier League winning squad. His 1996 Golden Generation Double-winning team. The 1999 Treble-winning squad. The 2003 comeback squad. His 2008 Champions League winning team. And now this, the Class of 2011-12, that Fergie himself believes could define his career.

Sir Alex has always remained a firm believer that no-one is bigger than the club itself. His short fuse and 'hairdryer' treatment tends to lead to big impact from the players, and his management techniques are acclaimed the world over - even his biggest critics now rate him as one of the best ever.

His squad awareness is completely unique in the modern game. We see the likes of Man City and Chelsea spending millions upon millions of pounds in order to buy the best players available. Fergie doesn't do that - he adds to the squad where he feels United need strength, and encourages the youth being brought through the academy and the reserves in order to keep building upon the continued success bestowed to the club.

There are countless quotes and honours written and spoken about Sir Alex, but some completely stand out. Eric Cantona, arguably Fergie's best signing at the club, at just £1.2m from Leeds in 1992, said that he '...found the perfect manager and the perfect club. He's one of the greatest managers in the world.' When the recognition you receive is from your fellow professionals, you know the job you are doing is certainly a good one.
I remember back in 2002, when Sir Alex was going to retire, that I didn't really want that to happen. I had just turned nine at the time, and was besotted with football. Ruud van Nistelrooy was my new favourite United player, and Diego Forlan had long blonde hair - something I hadn't seen on a man before. I remember crying after hearing about the semi-final loss to Bayer Leverkusen in the Champions League, and I also remember that first time I felt that terrible pain of forfeiting a trophy to a rival - the Premier League title. Even back then, you recognise the power a manager has on a team, and quite how legendary he has become. Fergie couldn't go down beaten, and decided to turn his back on retirement, and ensure United were left in good stead. And here we are today, in the same position we were - with Sir Alex at the top of the game, and still winning trophies.

To say Sir Alex is talented is a massive, massive understatement. Football fans across the globe recognise his achievements, and even rivalries are tucked into a corner in order to admit the man's legendary status. It's a beautiful thing.

Saturday's pre-match presentation was truly quite brilliant. It showed Fergie in the light we don't get to see very often. A guard of honour, followed by the dedication of the North Stand, which is now known as the Sir Alex Ferguson Stand. A statue to be erected for the start of next season. And not to mention the countless former players spotted in the crowd, all there to honour the great man.

You can have your personal opinions on Sir Alex, but you cannot doubt his wisdom, his genius and his talent. Manchester band Elbow have a song on their third album, titled 'My Very Best', and it contains a line that perfectly sums up every United fan's feelings for Sir Alex.

'You've gone and made a beautiful hole in my heart.'

A big, purple-nosed, Scottish-blooded, Sir Alex hole. A hole that can never, and will never be filled. And long may it continue.
Agree with me? Want to add your tuppence worth? Follow me on Twitter - I'm @Adam9309 - or find me on my own blog!