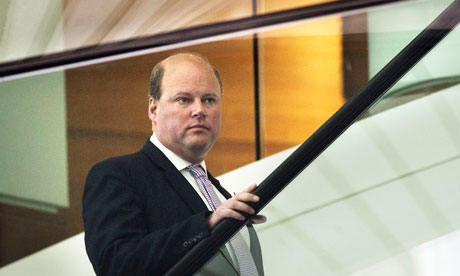 My parents, between them, have a combined total of over 50 years' experience within the banking sector. Which, quite frankly, is madness.
It has its benefits - we're all very good with money; know how to save and get the best value for our very English pounds. It has also had a very adverse effect on our livelihoods over the past five years, thanks to the greed of some of the wealthiest men in our country.
Now thankfully, Mum has left working at the bank, but Dad is still there, doing his best, alongside the other 141,000 employees at RBS, to keep the 84% taxpayer-owned bank afloat.
You mention your Dad works for RBS, and he's automatically 'the man who caused the problems'. First of all, the investment arm of the bank screwed up, and there just wasn't enough money to keep the bank stable - same as all of Britain's banks. But it was the obscene salaries being dished out to the top dogs in the banking sector that seemingly got on everyone's wick.
Over the last ten days or so, we've seen RBS hit the news again, after offering Stephen Hester, Chief Executive of the bank, a £1m share bonus for his work this year. A lot less than has been offered in previous years, but still, outrage ensued with many blaming the 'greedy bankers' again.
Now £1m sounds a lot of money to you and I. But not to the bankers - that's pennies for them. But it's far easier to blame them for being greedy, having a lot of money and creating a double-levelled economy, than... Oh, I don't know, say, footballers.
The bonus offered to Hester is the equivalent of a month of Wayne Rooney's pre-tax wages. England captain John Terry will have earned 39 times that when the five-year contract he signed at Chelsea in 2009 comes to a close. There's a hell of a lot of money in football.
The recent announcement for a benefits cap per household, of £26,000 a year, is what Mr Rooney earns in just three and a half days. There doesn't seem to be a lot of parity between the rich and the poor - there simply isn't the middle ground there once was.
It's just much easier to criticise those who have done something that affected us all, a la the bankers, than moan at someone earning multi-millions for playing ninety minutes of football once a week. Rather than back the initiatives, such as the Mayday for Nurses campaign, encouraging footballers to give up the equivalent of a day's wages, the general British public would rather rip into those who are being portrayed by the media to be the bad guys in this whole situation.
This is probably coming across as a piece of very biased propaganda, and I apologise for that. I just really wish the government would look at footballer's wages, and enforce some form of legislation and regulation, to encourage more charitable donations made by these multi-millionaires.
You tax them, and the quality of British football as a whole will drop, as these greedy players will want more money elsewhere. But you encourage the charitable aspect, and more will be handed over than ever before.
We can blame Hester for being the greedy bastard that we all like to believe he is, but if we do that, we need to take a long, hard look at the individuals playing for our club. And then reconsider.
Agree with me? Want to add your tuppence worth? You can follow me on Twitter - I'm @Adam9309 - or find me on my own blog!