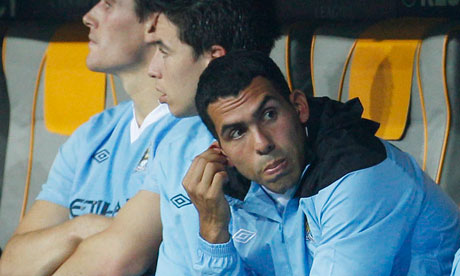 It's been three days now since the unthinkable happened. Since one of the most dislikeable footballers of all time stood up and finally said sorry. No we're still waiting for Luis Suarez to do the same but Carlos Tevez finally admitted he was wrong, after a five month battle that in reality has been raging on for much longer.
The news was met with mixed reactions from City fans. On one hand they were just about to get a £40 million striker back in their team just in time to boost their chances in the title race. On the flip side they were about to let an extremely disruptive influence back into the dressing room just in time to disrupt their best chance to win the title in decades.
It's hard for me to admire or praise City on the way they run their club. I have no interest in a team full of mercenaries. I can give no backing to a team that signs Owen Hargreaves just to laud it over their rivals. And I laugh at a team that spend the amount of money City have and question strength in depth when two players go to the African Cup of Nations. But I must admit I think they've been spot on when it comes to dealing with this latest Carlos Tevez strop.
Player power has been growing since a certain Jean Marc Bosman went to court and changed everything. City may have paid tens of millions to get Tevez to the club and millions more in wages and bonuses to keep him there, but before this incident you'd say the power was with the player. Tevez could do what he liked. He could moan, complain, lie, disrupt and City had no choice but to accept it. He was such an important player for them and if he they didn't want him someone else would snap him up and pay him just the same.
On his way to change football forever, it's just another day for Jean Marc Bosman.
But City stuck to their guns, they allowed him to skulk off to Argentina, they've constantly fined him (hitting him where it hurts, his wallet) and when January came around they stood up and said absolutely not when the Milan cubs tried to sneak in take a player for half of what he was worth.
City could have cut their losses then and there. For the sake of their title hopes maybe they should have but for once they did the right thing and told Tevez exactly what was going to happen, he could leave but on their terms and at their price. Tevez and his scum agent's scheme backfired and AC Milan who had been promised a bargain walked away with nothing.
So fair play City, it may be easy to make such a stand when you have the backing of a Abu Dhabi Sheikh but it was a righteous stand. It sets an example that all teams should strive to follow. In the days of the multi millionaire footballer, teams have to remember and prove that they are still the boss. However the reward City get for all this isn't an end to the war, just the beginning.
Now Carlos Tevez returns to the squad. With just a few months left in the season and every game crucial Mancini now has to fight the battle on his home soil. With Tevez off in Argentina, City could play a game of out of sight, out of min d. They could concentrate on the league, getting the best out of the players that were there. But now he's back, he's in training, he'll want to play. How Mancini deals with this will go a long way in deciding if City are champions come May.
The first time that Mancini leaves Tevez on the bench, media pressure will build. Every journalist in the country will be watching, waiting for their big story. Will Carlos leave the bench this time, will he come on and score a winner. Or will he refuse. Will he sit and sulk like September? Will his performances on the pitch be the games of a man who doesn't want to be there, who took on his club and lost?
We read recently about Tomas Brolin, a Leeds midfielder who played badly to prove a point, could Tevez be a similar ticking time bomb. Would anyone put it past the Argentine to deliberately play badly to scupper City's chances? He's not loyal and he gave up the fight to help City months ago. If you were a City fan would you trust him with a season defining penalty?
If you think I'm asking a lot of questions, that's the situation. We're entering the unknown stage of a saga with twists and turns yet to come. Has Tevez repented, can an ego of his size even contemplate it? Or is this his and Kia's next step in the plan to get out of City and on to their Milan payday? Nobody knows but Tevez. There's a long road to go in this one.
------------------------------------------------------------------------------------------------------
--------------------------------------------
When I checked City's fixture for this weekend prior to writing this, I couldn't help but give a wry smile. You see City weren't the only team fighting one of their best players, off the pitch. What a sight it would have been to see Tevez take on Samba in a battle of the overpaid unprofessionals. Neither will play of course, Tevez might, depending on match fitness, but it's not likely and Samba? Well with all his talks of ambition, he's decided to end his career at 27 years old by moving to Russia, taking the money of Anzhi Makhachkala rather than fighting to keep Blackburn up and finding a proper club in the summer. One can only hope that in a year and a half's time when he realises the mistake his made and tries to go on another strike, Anzhi do a City and tell him where he can stick it.
Dont forget to follow me on Twitter to praise or abuse! @David_TPL