I've had 12 hours or so to calm myself down from the catastrophe that is Thursday nights, Channel 5. It's utterly humiliating - and it shouldn't be; but we've grown to expect the best from United.
There's a level of apathy in that United squad currently, and that's what has led to consistent poor performances since late September. I feel low and embarrassed, and I think a lot of fellow United fans will feel the same as I do.
This isn't me criticising the Europa League - not at all. It's still a European competition, that other clubs could only dream of taking part in. The issue is that United have done so well for so long, that any step down from the top of Europe is a failure.
But why has everything gone so wrong all of a sudden? Well, there's a lack of experience in the team. The loss of Edwin van der Sar, Paul Scholes, and to a point, Owen Hargreaves in the summer has left us a little bare in terms of match knowledge, and how to play the game well. They didn't replace any of these players in a sufficient manner - David De Gea is one of the world's best keepers, but needed a couple of seasons to settle in to the rough nature of English football. Tom Cleverley has shown he has the potential to be world-class, but injuries and setbacks has meant that he can't plug the hole that Scholes left. And there's not a single purely defensive midfielder in the squad any more now Hargreaves has gone.
So what do United need to do? Well, if there's no cash available, as reports seem to be suggesting, then they need to sell to invest. It's not something United fans have seen very often in the past - if Sir Alex wanted a player, the board would always try and find the cash for him to buy the player. The Glazers have given Ferguson a lot of cash over the last five years, and now seemingly have noticed that that looming debt is about to burst and come crashing down, should expenditure continue to match previous years.
My issue with the squad currently is the egotistical vibe that comes from every time they play as a team. Nani's 50-yard shots when there's a man in better space. The constant reliance on Rooney to play well. Fabio thinking he's God's gift to full-backs. Every player has an ego, and currently they're clashing. They run the risk of completely destroying everything Fergie has created in terms of team ethos in the squad over the last eight or nine years.
Last night's game with Basel proved a lot - and I think in terms of transfer windows, it confirmed a lot too. So, in true English football fan fashion, here's my take on what the sod is going on, and why we need to bin a chunk of the squad. Neatly arranged in squad number order, of course...
Rio Ferdinand
First off is Rio. This season he's been a bit of a liability. Over the summer, he seems to have lost a yard or two of pace, and with the forwards in the Premier League, and in Europe in general, getting quicker and quicker, United can't afford to be playing slow centre backs. Yes, he reads the game wonderfully, but there's been a lot of poor placement, and a lot of mistakes from the man who has been the solid rock of the England defence for years. Unfortunately, I feel age may now have got the better of him, and his injuries are playing up again, and he needs a slower style of football to continue his brilliant career. Rumours of a move to the MLS could come to fruition, and would wipe a good £100k a week from the wage bill, too. Chicago Fire seem to be the favoured destination, but we'll have to see what happens.
Michael Owen
From Liverpool to Newcastle, down to Old Trafford, via Real Madrid - there's no denying Michael Owen has a bit of a footballing tale to tell. Again, injuries seem to have affected his career, and when you're fifth-choice striker for the Premier League champions, some players would be happy. Michael is one of them.
However, there seems to be some interest in him from elsewhere, where he will be guaranteed first-team football. Sunderland are in desperate need of a striker, and have been linked - likewise Bolton, Aston Villa, and Blackburn. It may only be a short-term loan move, but it's another player gone from a large squad, allowing Fergie to streamline. It'd be a loss of even more experience, but there is no need in keeping umpteen strikers when United only ever play with two...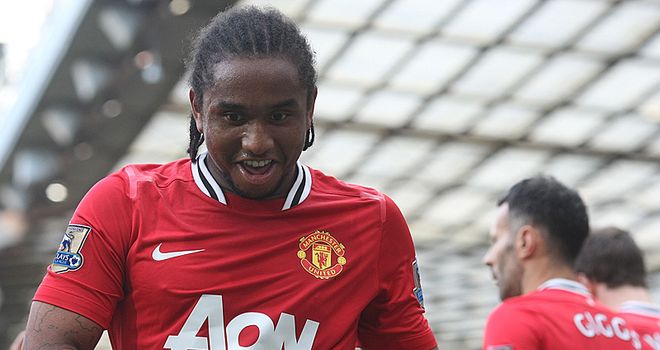 Anderson
The Brazilian who has more dogs than the Queen, Anderson has been dreadful this season. What I call a 'kamikaze player', he runs around like a headless chicken, boots the ball ten yards in front of him and chases after it. Then wonders why he loses the ball and inevitably starts the opposition on a counter attack. I was actually vaguely thankful he got injured late last month, as it puts him out till February.
Then realised we now can't flog him in January. There's rumoured interest from Germany and France, and if I were David Gill I'd snap your arm off if you made an offer for him. Anything - a penny. Half a button. Three paper clips. Just get rid.
Federico Macheda
'MACHEDAAAAAAAAA!' shouts Martin Tyler, as Kiko wins the game with a curling effort from the edge of the box in the third minute of injury time against Villa in 2009. Big things were expected.
And they never came. Macheda is a player with excessive amounts of skill - and an attitude to match. Weeks after that game against Villa, he announced he would love to move back to Lazio one day - proving he hardly had a commitment to the cause at United. He was appalling against Basel last night - really, quite poor. His loan at the end of last season to Sampdoria was meant to be enough to mature him, but he still has an attitude where he believes he is the best on the pitch. Fair play if you are, but grow a pair if you're not.
Another loan move might be all he needs - somewhere he is guaranteed first-team football in a league similar to that of the Premier League. Swansea are rumoured to have made enquiries, but there's also talk of a move back to the slow, drab league they call Serie A. We'll have to see who he becomes, what he does, and whether or not he is still worthy of a red shirt.
Tomasz Kuszczak
Over the last five or six years, I've seen Kuszczak play well once. And that was against United, when he had a stormer for West Brom. I said at the time it was a poor move, and I still hold out it is - he's now third-choice, if not fourth-choice goalkeeper in the squad.
Cart him off somewhere - anywhere. Hertha Berlin made a blind request, as did the likes of Middlesbrough, if reports are to be believed from the summer. Yet still, the poison chalice remains. If Ferguson wants cash, albeit a small amount, there's a sitting pot of gold called Tomasz somewhere at Carrington.
Mame Biram Diouf
I'm actually very impressed with Diouf - much more than his namesake. He's built like a brick shithouse, and has an obscene amount of tricks and skills to get him out of sticky situations. He had a wonderful end to the season on loan at Blackburn last year, and it wasn't recognised as he only scored three goals in 26 appearances.
I figured United may play him a little more this season because of it, but with seven strikers on the books as things currently stand, there doesn't seem to be a lot of hope of him becoming a regular in a match-day squad. Another loan move may be on the cards, potentially back to Blackburn.
There's the six I believe may be those who could leave in January, or during the summer. I also feel Nani may be off, too, and there's a lot of talk currently that Vidic may be on his way for a big-money move to Real Madrid or Anzhi Makhachkala at the end of the season.
Strength is needed in midfield, and also in left and right back. I'd like to see Schweinsteiger join United, and for him to be trained to play in an attacking midfielder role, feeding the ball through for Rooney and Chicharito. I was also highly impressed with Shaqiri against Basel last night, and the last three years' worth of rumours were finally proven to be true - he is a quality player. And again, Marek Hamsik played well for Napoli last night, and I'd be surprised if there isn't big interest in him from Europe's elite over the coming months.
I also feel they're missing a quality right-back. Yes, Rafael fills in well, but United played six weeks' worth of football playing one of their most attacking wingers in the position - Valencia. Chris Smalling does a great job there, but I feel he plays better alongside Phil Jones in the two central defensive roles. Strength in numbers is most certainly a phrase coined for United's current right-back situation - and they need someone who is proven and able to fit into the squad quickly.
We all know Rome wasn't built in a day, and this squad re-build will take time. But the success United fans have grown to love and expect needs to continue for them to be happy. And with this group of players, the attitudes involved, the tactics played and all the other factors that need considering, it won't be happening.
Well, it might be. Maybe. Hopefully. God I hope I'm wrong.
Agree with me? Want to add your tuppence worth? Follow me on Twitter - I'm @Adam9309 - or find me on my own blog!