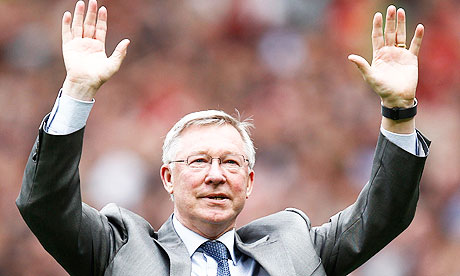 Since 2002, very little has been spoken of who will fill the biggest shoes in club football. The occasional name has popped up, and the odd piece or two written about where the club will go. Until this month, when suddenly every media outlet in the world wanted to see if they could get Mystic Meg on board in order to predict the future. But the question is still there.
Just who will replace Sir Alex Ferguson at Manchester United?
Luckily, we have a few years to consider it. Fergie has said he reckons he has three or four more years left before hanging up his coat, and walking away from the Manger's Office at Old Trafford for the final time. And until that day, nothing will be known of who will become the first new manager of Manchester United in nearly 30 years.
Many have said that Jose Mourinho will be the preferred choice of the board and the fans to take over the tenure. He himself has said that he would like a return to England 'one day', and it is believed there may be some form of release clause in his contract at Real Madrid. His tactical awareness and continued success across Europe has led to him becoming the front-runner in order to fill Fergie's shoes, and Sir Alex's admiration for the 'Special One' alone makes him a worthy candidate. However, his tendencies to stay at a club for a relatively short period of time, and also his outspoken nature and criticism of how the game is run could be factors in a decision not to appoint him.
Another name constantly mentioned is that of David Moyes. Fergie is reportedly a big fan of the Scot, who has managed both Preston, and currently Everton. He is the third longest-serving manager in the Premier League, after Ferguson and Arsene Wenger. His success on a shoestring budget has led to him becoming a prominent candidate, and reports last year said that Fergie himself had endorsed Moyes as the future United boss. Again though, his lack of a big club on his CV could prove a problem, alongside the fact he has never had money at his disposal - which could lead to failed buys and adverse effects in the transfer market.
It looks to be a two-horse race for the manager's post, but until that fateful day we have no idea what is going on. Other names have been linked, such as Mark Hughes, Martin O'Neill, and most notably, Pep Guardiola, but the latter looks likely to stay at Barcelona for as long as they are successful. We could also consider ex-United players under Ferguson as candidates, such as the aforementioned Hughes, Roy Keane, and Steve Bruce, or even Laurent Blanc, manager of the French national team.
I really don't know who the United board, alongside Sir Alex, will choose, but I know who I want in my heart. And it would involve a dream team involving a certain Eric Cantona.....
Agree with me? Want to add your tuppence worth? Follow me on Twitter - I'm @Adam9309 - or find me on my own blog!