Well I've made a partial move. I will be dual posting on 606 and SportWitness.

I've searched around and, well simply put, the others are all dross and set up to make money.

SportWitness has been set up on a simple, clear platform and with a few tweaks I think it could easily grow to become a massive forum.

Anyway on with what I hope to become a regular, irregular blog stroke article.

One which I aim to become a quick round up of recent events and gossip at Villa Park, one article to keep you up to date with events without reading 400 articles. I will try and give a balanced view across the board, except when it comes to Liverpool and my penchant for volatile short term hatred of certain things. Steve Bruce recently for example…

I will also be prepared to post any ITK you may have in and around transfer windows, PM me and I'll post it, again this will be to the benefit of Villan who will be able to find snippets everything they need to know around what is going on at Aston Villa.

So today I begin with a "bone of contention" between many Villans.....Houllier.

GH has told of how his ambitions for Villa stretch far further ahead then just beating relegation. Houllier wants Champions League football and wants it soon. Houllier made some excellent points about our season, one was about the 18 points we've lost from winning positions this season. Imagine if we'd have been able to hold on to half of them… look where we'd be. It's positive signs that the manager is still talking about Champions League football. Considering the obvious restrictions he is going to be under regarding wage budget and the fact that Houllier ,being an intelligent man, is surely not just going to say something to appease fans or raise expectations above what he thinks is achievable, This to me is more indication of how Cowans, GMac and Houllier rate some of the kids.

Which leads me nicely on to the next subject. Gordon "Sid" Cowans has been talking openly about his day to day routines at Villa and how the coaching staff along with Houllier constantly assess the progress of players technique, fitness, positioning, attitude ect to make sure players are getting what they need to develop. Also how the onus of "a desire to win" and "motivation" is now encouraged to come from the players. The coaching staff want players to be motivated to improve, to win and to fight for each other. Its seems to be about building a squad that actually will play for each other without the need for a manipulative 5 minute rousing speech. We don't want puppets we want players that can think on their own two feet. I agree with this, although the player might not have an affinity with the club, they are professionals and extremely well paid at that. It should be no less than we demand as Villa fans to see these people giving their all to win and wanting that success, if not for the club but for them selves and their own personal pride. This is an excellent change in mind set IMO.
Stephen Ireland - God his kids hairy... and its got big ears...

Regarding "mind set" we have one player that arrived and never even gave us a chance. Yet we still have fans willing to give him a chance after taking £70k a week for six months, crying off with stomach ache and curing him self with lager and dancing at 2am. The reason for his sulk seems to be because he wasn't allowed to join Liverpool in the summer for £8m. Boy how I wish he had, I can't help feel that he was nothing but a bad influence in his time and the sooner he went the better. If he thought Birmingham was "a horrible place" before, wait until he comes back.

From past failed transfers, to positive potential transfers.. this is flowing quite nicely!!!

It has been rumoured Stoke are favourite to sign Enlgand LB (by default) Warnock. I've got no real thoughts about the move, average player, big wage, can only play one style of football. But I can't think of a player with a name better suited to Stoke… WAR and (K)NOCK… Other rumours of interest;

Sturridge to Villa
Walker wants to stay.
Redknapp interested in Gabby.
Shaquiri favourite to sign for Villa (Swiss press)… favourite to sign for Liverpool (English press)… make your own mind up, but I imagine the swiss press have a better idea.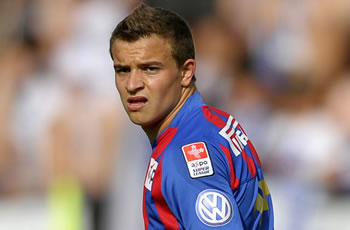 Xherdan Shaqiri - Favourite to sign for Villa?

Finally a few snippets.

Laursen has spoken about just how good a player ReoCoker is at shielding a defence and believes he and Makoun will be the key to the rest of Villa's season. From a defender of Laursens pedigree I think it's a huge comment, and surely to be a boost for ReoCokers confidence. Although I will say… Keep is simple Nige… no Hollywood balls!

And Villa FA Youth Cup Semi-Final opponents have been decided. Sheff Utd's kids sealed the fixture with a win over Leicester. Sheff Utd have a very strong youth team, with many of last nights team that have already featured in their first team. They are also a big physical team. It'll be a good test of the Villa teams tactical systems and passing game but I still think we'll have enough to get past and get to another final.


UTV